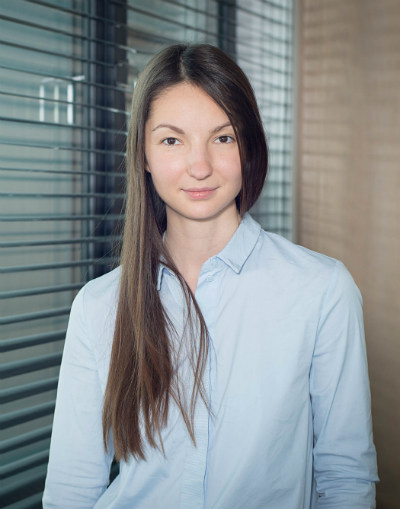 Margarita Mukhmadeeva, Chief Product Officer at ECOMMPAY IT, shares her experience of embarking on a career in IT, developing in parallel with the company, and juggling a growing number of tasks and responsibilities without burning out. "The principles I live and work by are staying true to myself, using common sense, and always seeing the big picture."
Margarita has been at ECOMMPAY IT for five years. She began her career in the company as a Project Manager and quickly rose through the ranks to become Chief Product Officer, overseeing four departments and 55 employees.
How did your career in IT begin?
I was working in project management across a number of various fields: from contemporary art to urban studies to design. In my experience, it doesn't matter whether the project in question is organising an exhibition, building a landmark, or processing payments, the management principles will still be the same. Moreover, from a human resources perspective, employees in various capacities also share similar traits. The temperament and passion of IT professionals, for instance, is reminiscent to that of artists.
And so, when I saw a project management vacancy available at ECOMMPAY IT, I decided to give it a shot. Luckily, I was able to convey my enthusiasm for exploring a new industry to management, who, in turn, were willing to give a person without experience in this field a chance. At first, I didn't understand anything, but I was a quick learner – in just three months, I felt confident in my knowledge of the sector. I remember that, on my first day, my new colleagues drew a chart to explain how our payment gateway works. When I went home after work, I redrew the chart five times, looking up each word I didn't understand, and by the next day, I could explain it myself.
My curiosity kept me motivated. I read and reread relevant articles, I asked questions. So many people avoid asking questions in fear of looking stupid, but I think not knowing is much worse.
What are the challenges of working in an IT startup?
I joined a company on an impressive growth trajectory and an industry with immense potential. Things were changing so fast that we couldn't take anything for granted and had to adapt on the fly. If, at the beginning, we could solve issues by going straight to the developer, that's no longer an option when we're a team of 300. Likewise, when you're a small company working with a select few clients, a good level of service means solving a specific problem, whereas when you're a bigger company working with more and more clients, you need to look for new ways to meet their diverse needs.
My biggest challenge, therefore, was a personal one: I had to decide whether or not I was up for the task of developing my professional skills in parallel with the company's growth. I was lucky enough to have great managers and mentors, who believed in me and trusted me with more and more responsibilities.
What is your advice for women in IT?
Unfortunately, IT remains a male-dominated field. The reasons why are often culturally insidious, such as media depictions of IT professionals as exclusively male. Too often, I encounter women who lack the confidence to build their careers in IT, because there are still so few examples of female career success in this industry. Though it should come as no surprise that everything required for IT management is perfectly within women's abilities, there's just not enough visibility, which is why I've made it one of my objectives to showcase what female leadership in IT looks like.
What drives your career success within ECOMMPAY IT?
I know my professional strengths, passions, and interests. In the various roles I occupied within the company, the most important thing was to determine how these external characteristics can best combine with the company's expectations. Now, this comes down to success metrics, which are both objective and subjective: your work must be profitable, but it also needs to meet the expectations of your line manager, who then reports to their manager and so forth.
If we're talking about The ECOMMPAY Group, we have a singular strategy that guides each employee. This strategy is, in one way or another, associated with profit. The success metrics of my specific role is directly related to the company's key business objectives, since there are very few projects undertaken by the ECOMMPAY Group's companies that require no input from my department. This is another way in which my position has expanded over the years – initially, I treated each individual company within our group of companies as a separate internal customer, but now I oversee the entire portfolio of projects and manage the product development for everything we offer.
Summary:
Define your values and needs. It's important for you to be able to formulate your desires and not be shy to talk about them. People are rarely able to say what is important and necessary to them. And that's exactly what you should do in order to be where you want.
Believe in yourself. Don't be afraid to start from the very beginning and gain new experience. Growth is not only vertical, but also horizontal. In IT, it's quite common for people to move from one unit to another without much career growth, but with a change in responsibilities. Analysts can become great project managers and great project managers can become great leaders.
Maintain a healthy work-life balance. In a new job or a new company, people often try to completely immerse themselves. This is a sure way to burnout. It's important to connect with your own feelings: fatigue, desires, opportunities, and boundaries.
Ensure structure. There's a golden rule in project management: if a certain task has more than one responsible party, no one is responsible. Structure helps to properly define areas of responsibility and to distribute resources.
Everyone needs freedom. In my experience, if people don't have the freedom to make independent decisions, it won't end well.
There are no universal solutions. Even if everything is planned out in detail, the human factor should not be underestimated. You should never be afraid to try new approaches, both in terms of people management and in terms of the tasks you set out to accomplish.
And some tips that have helped me avoid burnout:
Always leave work on time. This doesn't mean you can't work from home, but switching off is easier if you have designated areas for work and for leisure.
Turn off notifications and do not respond to incoming mail immediately. You need to be able to switch between large tasks at different times. Sport and meditation can help with this.
Start the day with difficult tasks that require concentration, and hold negotiations and meetings in the afternoon.
Split information flows between two phones. It works best if you're able to limit your work phone usage during non-working hours.
Delegate as much as possible. There's no need for you to do what can be entrusted to others.