Tailoring the offering of your payment methods to customers' preferences is key to a successful online business. While localizing payment methods for different markets is always a good idea, how can you ensure instant worldwide coverage? Businesses should think about integration with universal, global, and trusted methods available to everyone.
Apple Pay, Google Pay, PayPal – these are three must-have payment methods that simply can't be overlooked by any business in 2021.
Let's see why your business can benefit from integration with these payment methods.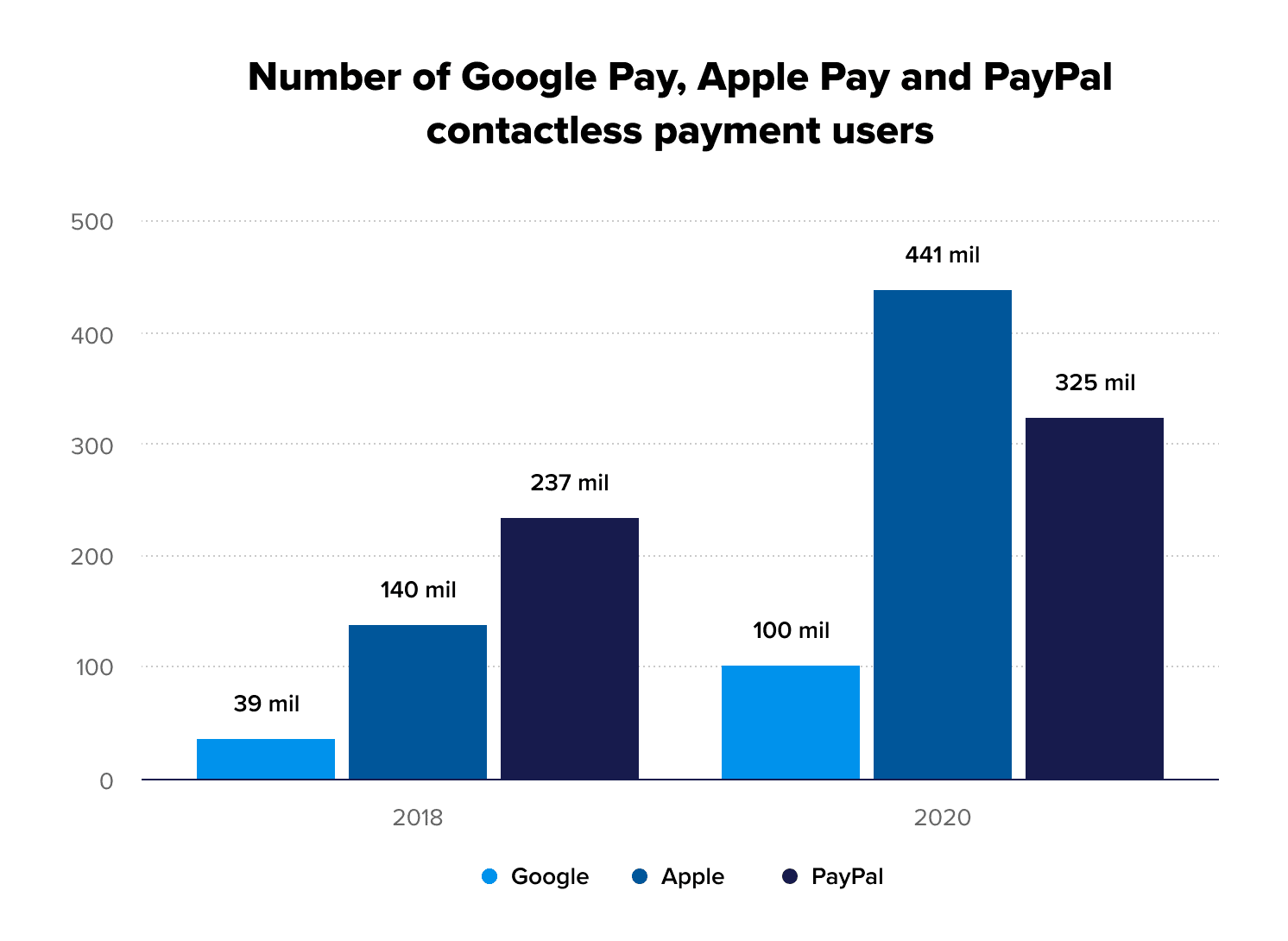 Apple Pay
Are you ready to speed up your transactions and reach customers across the globe? Apple Pay provides a convenient, safe, and reliable way to make payments on iOS devices, such as on iPhone, iPad, Apple Watch, or MacBook.
Apple Pay makes the payment process easier for your customers and removes unnecessary, time-consuming steps. Your customers don't need to manually type in their card or shipping details. Purchases can be made with one-touch, authorizing payments with Touch ID or Face ID. Moreover, this e-wallet's level of security is incredibly high, compliant with SCA by PSD2.
Big brand – impressive numbers: integrate Apple Pay to your site today.
With a growing userbase and about half a billion active users, Apple Pay is allowing you to streamline your checkout process for a huge number of iOS device users all over the world.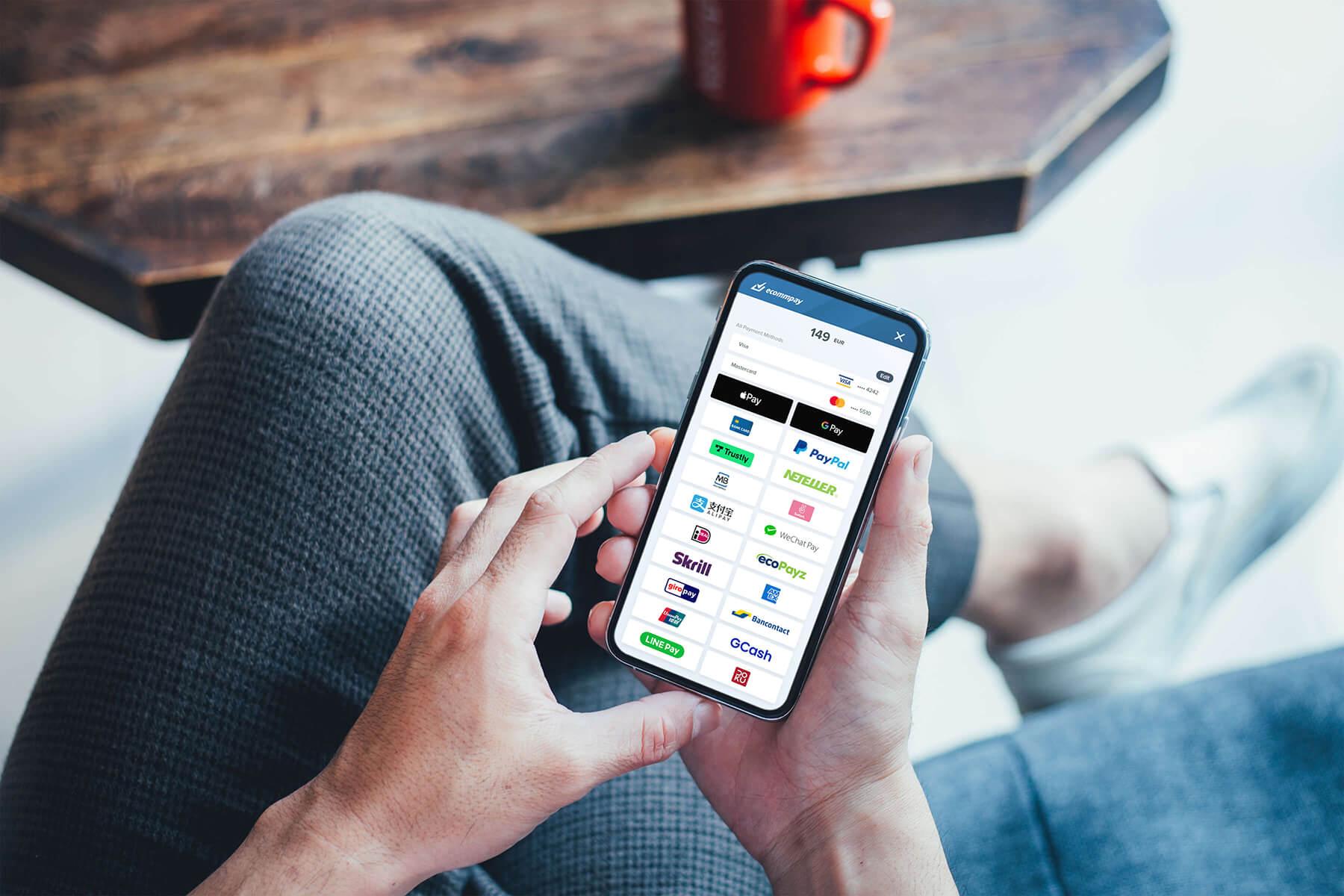 Connect Apple Pay and offer your clients a convenient, safe, and reliable way to make payments.
Learn more
Google Pay
Google Pay is a digital wallet and payment platform provided by Google, enabling users to make payments with Android phones, tablets, or watches. Just as Apple Pay, Google Pay allows customers to securely pay without having to enter the card information because it is already saved in their Google accounts.
Google Pay ensures that customers can keep their money and private information safe and control it by adjusting the privacy settings; users can change these settings at any time.
Investing in growth: more than 100 million people use Google Pay every month.
Whereas Apple Pay is only available on iOS devices, Google Pay is available on a number of different devices, offering you access to more than 2.5 billion active Android device users worldwide.
PayPal
PayPal is a service that enables you to pay, send money, and accept payments without revealing your financial details. With over 320 million active users and 7 million companies accepting PayPal globally, it is a payment option that you simply can't afford to overlook.
PayPal is present in more than 200 countries; this staggering number alone should be enough to prompt you into connecting PayPal to your payment options.

According to the Ipsos research, customers trust Paypal: people are 54% more willing to buy from you, if your business accepts this payment method.
We are here to help you boost your business
Increase your conversion rate by offering payment methods your customers are already familiar with and enjoy using!
With ECOMMPAY's user-friendly integration, you can add Apple Pay, Google Pay, and Paypal to your website with just a few simple steps. Contact our team now and start accepting more payments.