Business expansion is a big step to take for any company, wherever they are in the world. However, entering a complex market with a completely foreign culture, traditions, and mentality is a next-level challenge.
ECOMMPAY is hosting a webinar on business expansion into Russia, Belarus and Kazakhstan, with a live panel discussion. The presentation will educate entrepreneurs on the current trends, consumer behaviour, and possible risks involved, as well as showing the huge business potential of this region. To fuel your interest and give you food for thought, so that you can do your homework and get your questions ready for the webinar, we have prepared this digest article as a quick dive into these 3 complex markets.
But are they really that complex?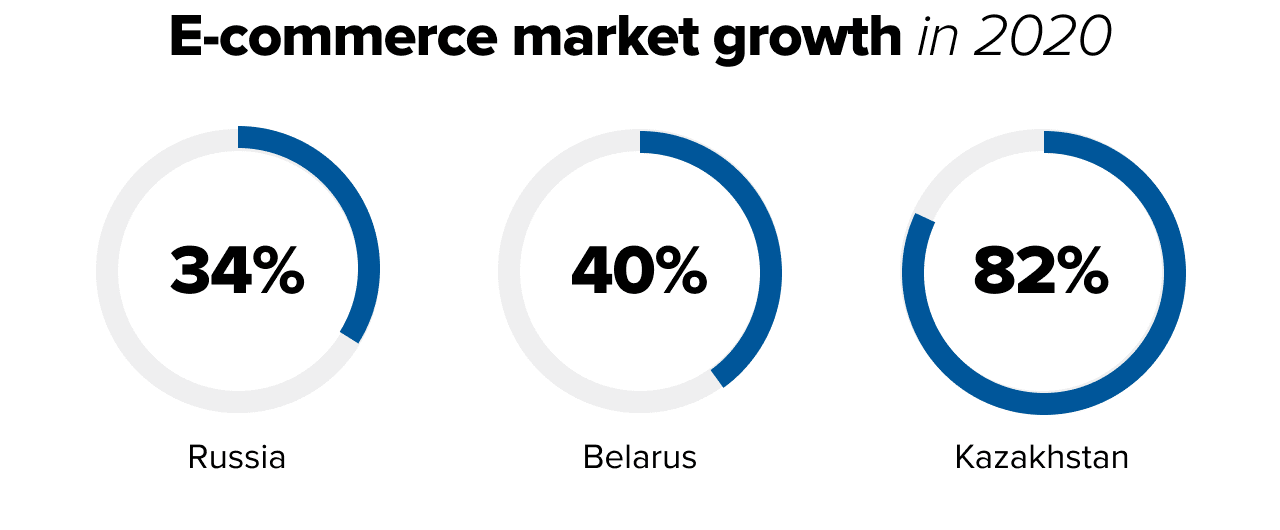 With growing e-commerce market volumes in all 3 countries, internet penetration rates of more than 75%, and the global pandemic shifting buying habits to online payments, this region – known as the CIS (Commonwealth of Independent States), has enormous potential for business expansion and growth.
Russia: Benefit from the Enormous Size and Diversity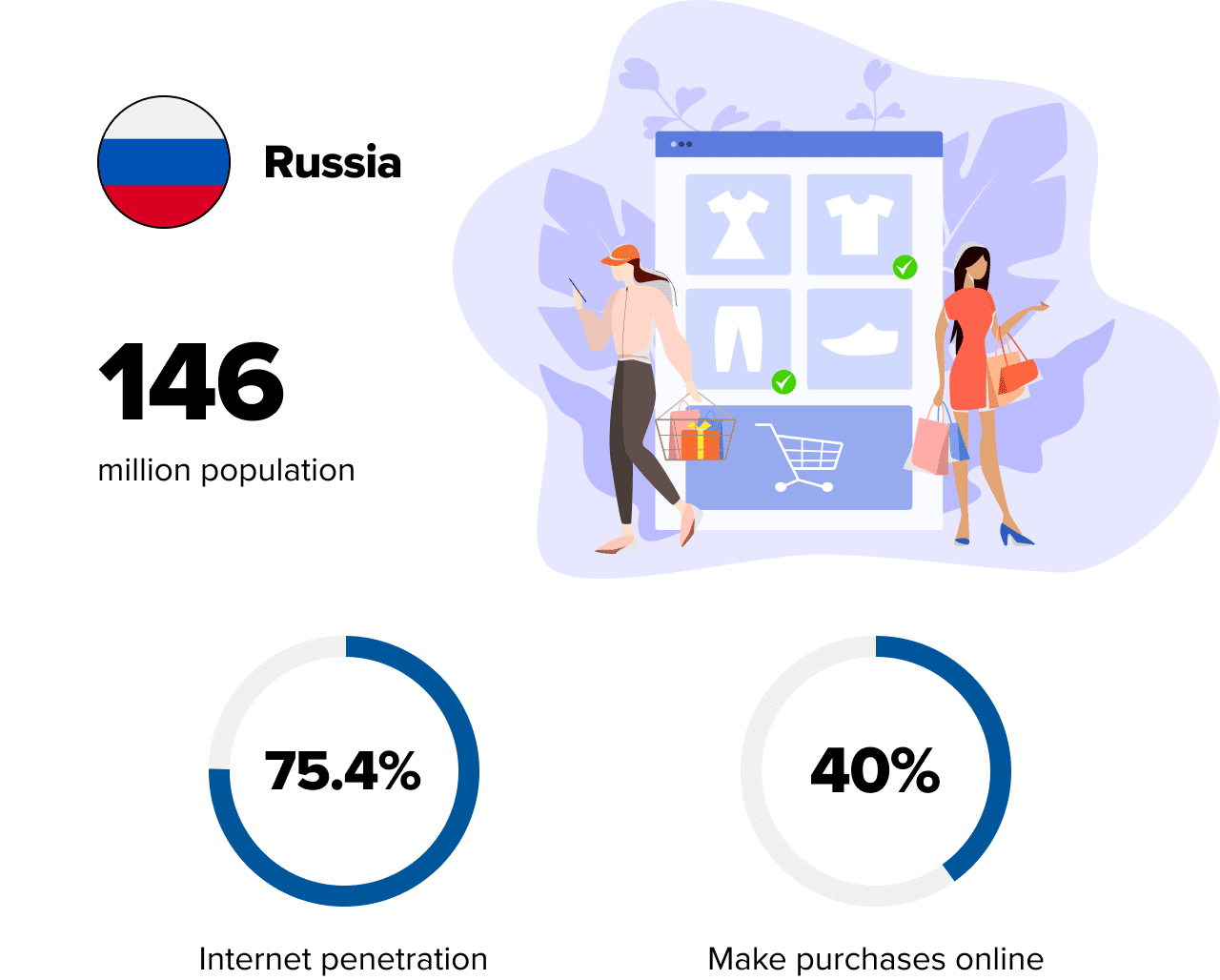 This emerging market is ready for new players of different sizes, in various industries and sectors. Currently, almost half of Russia's population shop online, with the e-commerce penetration rate expected to reach 60% in the next 2 years. The most popular online payment methods include Yandex Money, QIWI Wallet, WebMoney, Google Pay, Apple Pay, as well as Visa, Mastercard and the local MIR card. Look at the e-commerce market size of $25,6 billion and ask yourself: Are you ready to learn more and consider Russia as the next stop on your business journey?
Belarus: Explore the Unknown and Enjoy the Growth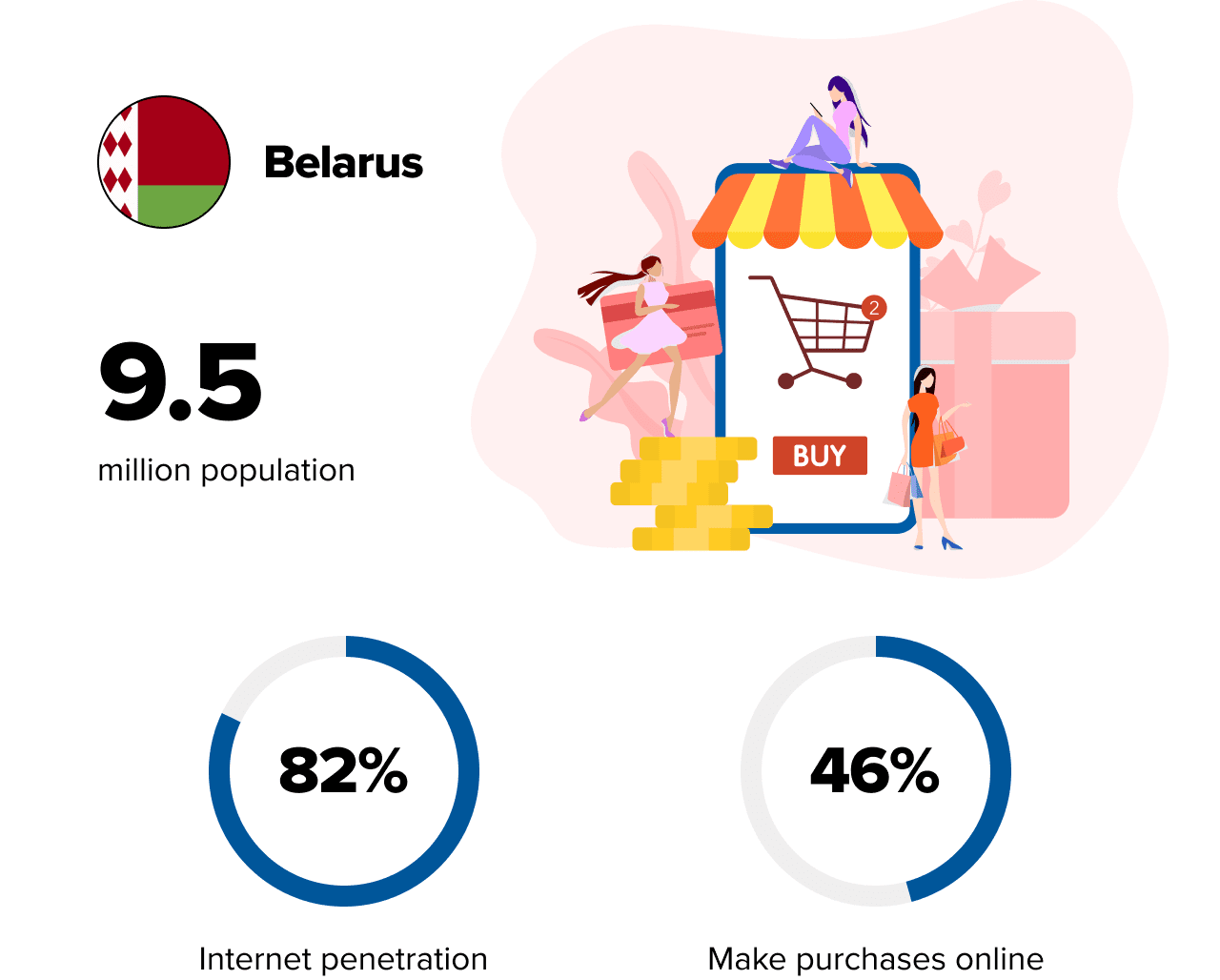 Yes, Belarus is much smaller than Russia; however, it's more than ready for business expansion. With an impressive 82% internet penetration rate, this country's runway is waiting for your online business' take-off. Belarus has also experienced a 4.6% increase in internet users between 2020 and 2021. Belarussians' preferred payment methods are similar to the ones in Russia: Yandex Money, QIWI Wallet, WebMoney, as well as the local Raschet. However, only 19% of the population use credit cards: VISA, MasterCard, and local BELKART.
Kazakhstan: An Easy-going Partner with Huge Potential
The population of Kazakhstan is almost 2 times larger than in Belarus, with an internet penetration rate of 88%. Sounds like promising statistics for an online business, doesn't it? What's more, the country has been ranked in the Top-10 of the easiest countries with which to do business by The World Bank. The popular online payment methods are as follows: QIWI Wallet, Wallet One, Plus24, Yurta Wallet, Yandex Money, as well as Visa and Mastercard credit cards. Although only 24% of the population make purchases online, 59% already have an account with a financial institution.
A Closer Look at the Promising Industries: What Do Complex Markets Have to Offer?
The world continues to be heavily affected by the global pandemic. COVID-19 is associated with the financial crisis, restrictions and changes; the latter very often drawing a parallel with something negative. Nevertheless, many businesses and industries benefit from the changes, and even from some of the restrictions brought about by the pandemic. Russia, Belarus and Kazakhstan are no exception here.
E-commerce: According to Statista forecasts, COVID-19 will positively influence the Russian e-commerce market value in the next 4 years, with between 18 and 28% growth in value in comparison with the baseline scenario without the pandemic. The annual growth of the Belarussian market has always been between 20 and 25%. However, the global pandemic shifted this trend to almost 40% in 2020. If those figures aren't impressing you, Kazakhstan should sound like the hidden gem you've been looking for – the e-commerce market volume there has grown by 82% in 2020. Consequently, e-commerce is an industry that's definitely worth considering.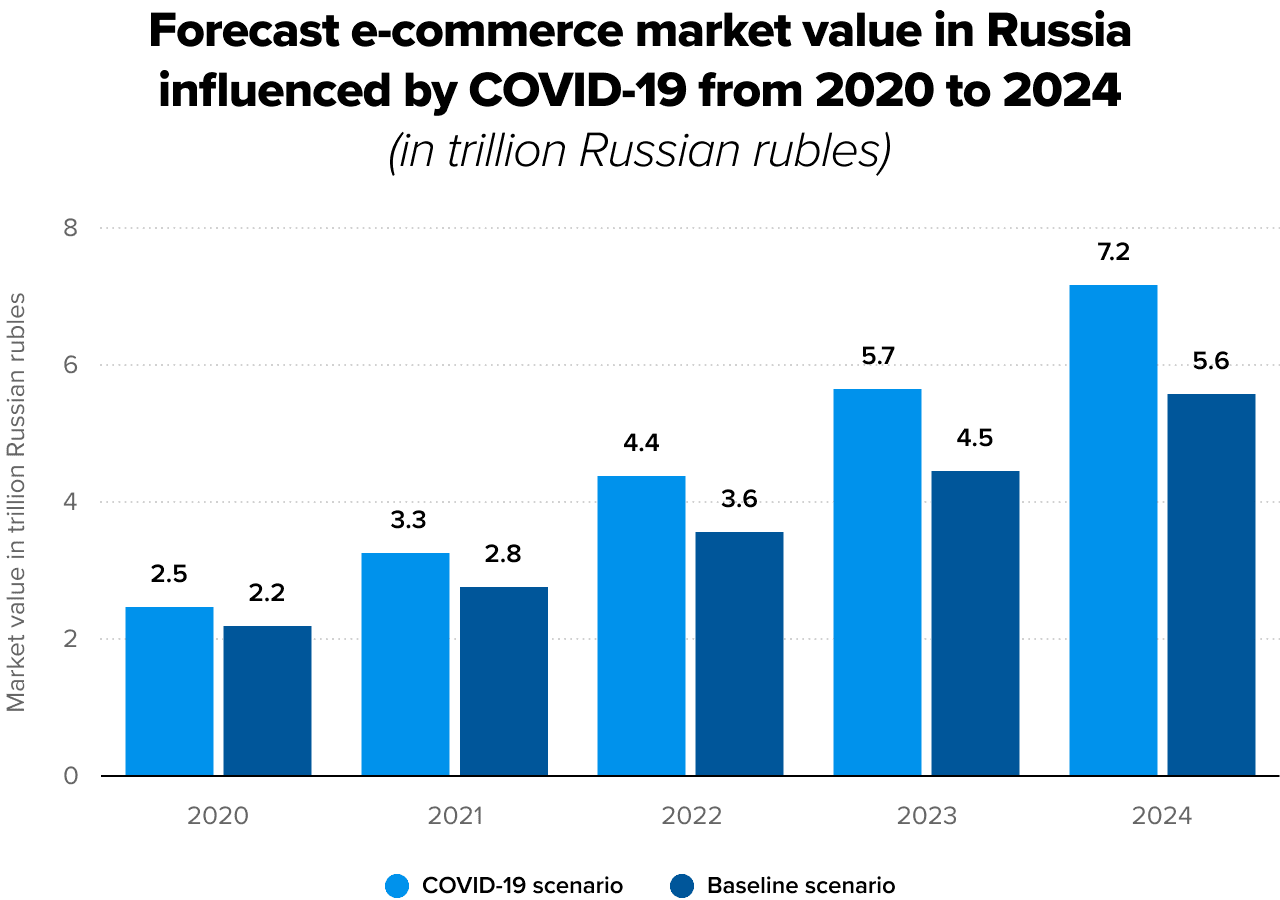 Online Education: Often called EdTech, is our next promising industry. People are forced to study online, and even those who are reluctant to make this change have no other choice but to adapt and get used to the new reality. For example, the share of online language courses has almost tripled in Russia in the last 5 years – in 2016, it stood at 5.8% of the total segment of language courses, while in 2021 it boosted to 15.9%.
Moreover, online education is now the new black in Belarus, since the single online education platform for all secondary school students has already launched in test mode and is currently going through final checks. This news means that there is room for development of private online education providers, such as tutorials, language courses, specialization and training, etc.
Sports Equipment: As reported by a popular Russian online price comparison platform Price.ru, spring-2020 was marked by a 173% increase in demand for dumbbells, a 103% increase in yoga mats, and an impressive 503% increase for gym equipment (treadmills, bikes, etc.). Furthermore, clothes and equipment for outdoor sports gained in popularity, being one of the only forms of outdoor entertainment we have left in the light of the pandemic restrictions. One of the leading sports retailers in Russia, Kant experienced a 4.5 fold growth in sales of bicycles in 2020.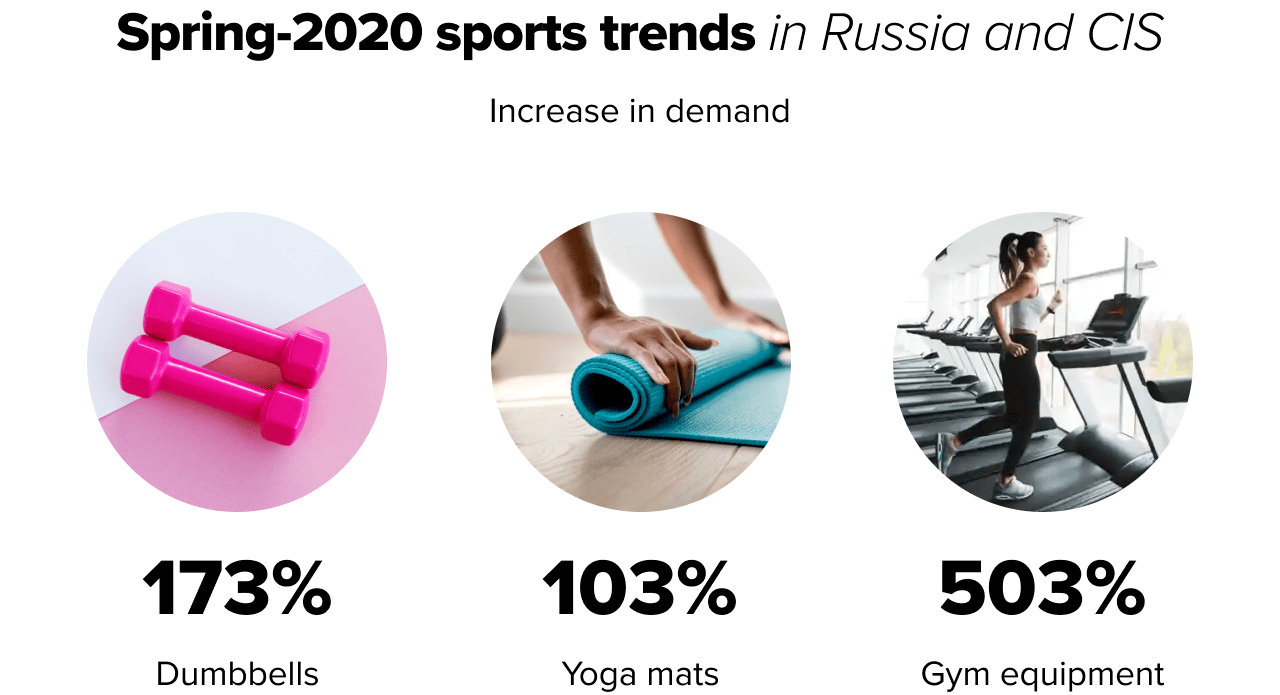 Video Games: Mobile gaming, e-sports, streaming, cloud gaming… This market has only benefited from the global pandemic, when even some traditional sports enthusiasts and board-game fans moved online and switched their habits to e-sports and online games. The 2020 market volume of video games in Russia reached a breathtaking value of 2.3 billion USD, and is expected to grow by more than half a billion USD again by 2024.
Shared Mobility: All segments of this industry are expected to grow in the next 5 years in Russia, Belarus and Kazakhstan. For instance, in 2025 the market value of taxi and ride-sharing aggregators in Russia will double in comparison with 2020, while the value of the car-sharing market is about to triple in both Kazakhstan and Russia between 2020 and 2025. It is worth noting that more than 90% of car-sharing and bike rental revenue comes from online services.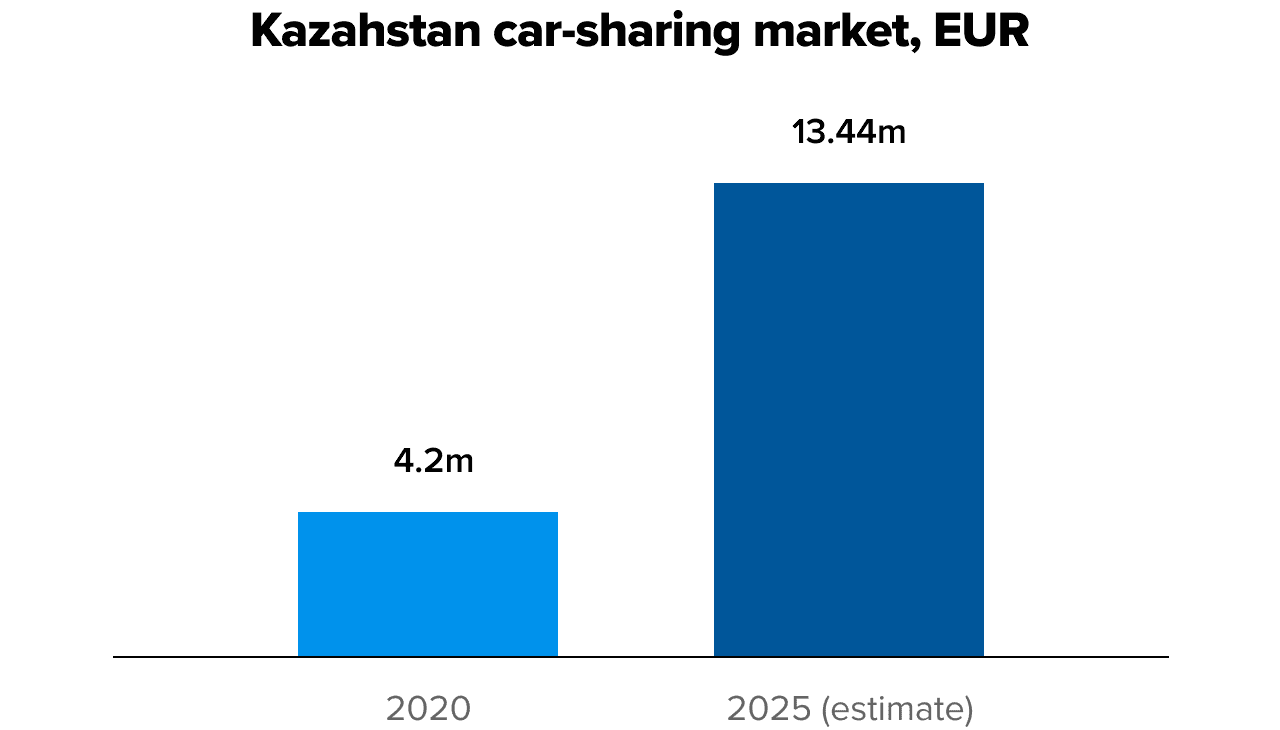 Delivery: Yes, it's the new gold mine. In the first few months of the global pandemic Yandex food delivery services alone reported a 120% increase in clients. The food delivery market volume in Russia almost doubled between 2019 and 2020. And it's not only about food: Following the rapidly growing demand in Russia for delivery pick-up points, in September 2020 there were 134% more parcel automats than in May 2019. Of course, that's just a sneak peek at the opportunities in some of the trending industries of the CIS. There are definitely more industries to consider and more business areas to explore.
So, Are These Markets Complex?
Finally, we get to the controversial question...
To get more detailed information and the answers to all of your questions, reserve your spot at the webinar and get ready for a deep dive into this complex, yet promising and exciting region!