Though European e-Commerce is a vast and varied landscape, consumers across the European Union (EU) and European Economic Area (EEA) are shopping online in increasingly large numbers, relying on the Internet for clothing, footwear, tickets, electronic, books, and more. Payment systems VISA and Mastercard have conducted thorough analyses into the e-Commerce activity of their users, summarizing consumer trends by country, industry, and payment preferences. Reviewing the research, international payment services provider ECommPay extrapolated patterns in consumer behaviour to outline predictions for the future of the industry.
Surveying 42,881 participants from 23 countries, aged between 18-64 and possessing either a bankcard or bank account, Mastercard created the 2017 Masterindex. Compiled from existing internal data from Mastercard's Global Consumer Tracker (GCT), the Masterindex reports on trends affecting European online shoppers. As consumers become further reliant on digital technologies, e-Commerce becomes as entrenched in European culture as brick-and-mortar shopping. 1 in 4 Europeans with Internet access now makes online purchases on a weekly basis. This number grows to 3 in 5 when considering monthly activity, and 9 in 10 annually.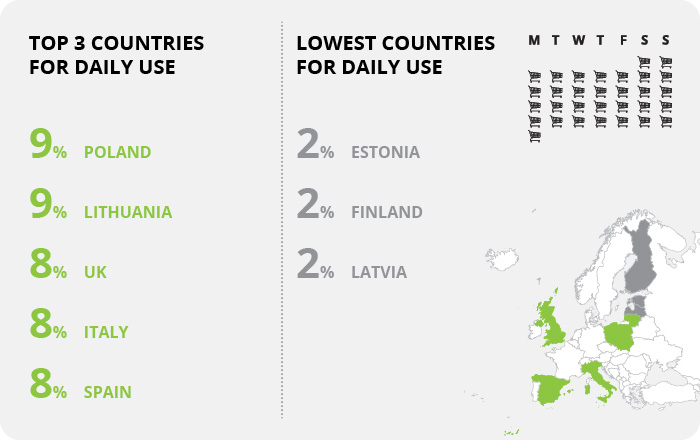 The increase in consumer activity when extending frequencies can be attributed to the very nature of online shopping – users are more likely to purchase "long-term investments" or "experiences" than everyday items. Clothing and footwear comprise the largest, most popular category for European online shoppers (48% EEA average), followed by tickets (34%), electronics (33%), and books (31%).

Though e-Commerce enjoys widespread popularity across the European continent, Mastercard's research found regional differences. Consumers in the United Kingdom are among the most frequent users of e-Commerce, with 8% of the population shopping online daily. At this frequency, the British are joined by Poles (9%), Lithuanians (9%), and Italians (8%), but when weekly activity is calculated, British e-Commerce activity remains high (41%), followed by the Irish (32%) and Germans (30%).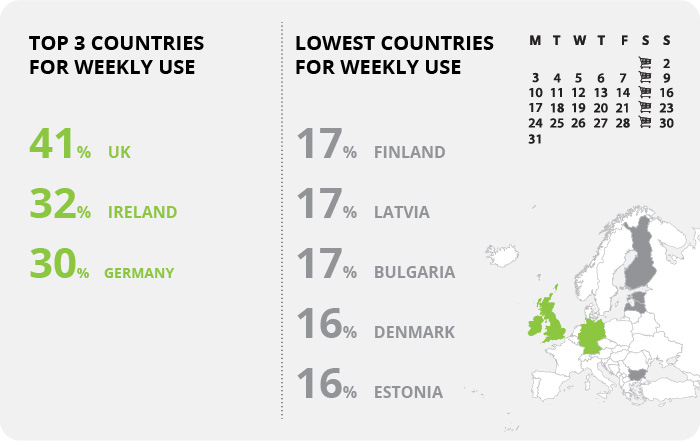 Frequently, ECommPay discovered, European consumers prefer to make cross-border purchases, engaging with e-Commerce brands abroad. 41% of online shoppers place international orders at least once a year, while nearly 2 in 3 have done so at least once. The Masterindex found that shoppers in Austria and Ireland are particularly active, with over 60% making cross-border purchases annually. Again, clothing and footwear is the most popular category for cross-border purchases (37%), followed by books, music, DVDs, and video games (21%).

European e-Commerce relies predominantly on payments facilitated through credit/debit cards or online banking. Bankcards and online transfers comprise the most popular payment methods on both mobile devices and desktop computers. Depending on European country, however, the market share is split differently between them. In the Czech Republic, Germany, the Netherlands, and Poland, online banking is twice as popular as bankcards, whereas in the United Kingdom, France, Ireland, Sweden, and Italy, bankcards are preferred.
Though online banking and bankcards occupy the majority share of the payments market, European consumers seeking increased convenience, security, and speed are looking to new, alternative forms of payment to meet their needs. e-Wallets, banking applications, digital currencies, and other innovative payment technologies are on the rise, presenting online shoppers with increased possibilities.

Research from Mastercard indicated that consumers are expressing interest in online banking apps (35%), e-Wallets (35%), and digital currencies (11%). Variances exist between countries, however, with more than half of Spanish consumers reporting interest in e-Wallets and 1 in 3 considering contactless technologies. Interest does not immediately correlate to implementation, Mastercard found, with 14% of Spaniards actively using alternative payment systems, behind Norwegians (20%), Greeks (20%), and Finns (19%).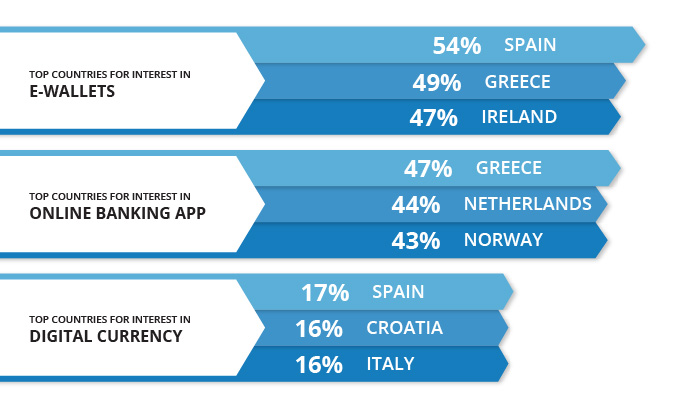 European consumers in search of novel technologies and new opportunities are forging the future of the continent's e-Commerce industry. Recognizing the trends can help forward-thinking merchants target specific audiences, whether conversion is ultimately achieved by offering alternative payment systems, by ensuring convenient delivery to cross-border shoppers, or by implementing technologies to address the most common concerns of European consumers.