This guide is intended to provide a comprehensive overview on internet acquiring for merchants, defining the term, explaining the role of merchant acquirers in the payments process, and offering a checklist of things to consider when searching for the right acquiring service provider.
Additionally, we are providing an overview of different models of the payment process and explaining the role and the difference between various entities involved.
After reading this article you will be able to find the answer to the crucial question - who should you choose as a merchant acquiring service provider for your business? While there's no quick answer, as different options have their advantages, it is important to explain the difference so you could choose the best possible fit for your business.
But first, let's start with the basics.
What is merchant acquiring?
Merchant acquiring is a range of services for payment execution and processing, conducted with the use of payment cards as part of the service provided to a merchant. In simple words, it is a service provided for merchants to enable them accepting credit card or debit card payments.
You may often find the term referred to as bank acquiring and the entity provided the service referred to as acquiring bank. Back in a day the service was predominantly provided by banks, hence the term. However, while we can see the "acquiring bank" term broadly used it is outdated as nowadays the service is provided also by PSP or payment service provider.
As there are multiple steps in the payment process (which will be covered shortly), often one company is covering the whole process, taking care of acquiring among providing a payment gateway, processing, etc.
In some cases, the internet acquiring service can be split among multiple companies.
What is a merchant acquirer?
A merchant acquirer is a financial institution that is offering acquiring services to a merchant. It is a member of a card organisation, such as Visa or Mastercard, that enters into an agreement with merchants and maintains a merchant's account to accept payments using debit, credit, and prepaid cards.
Apart from performing as an intermediary, the acquirer is also collecting the necessary amount from the customer card's issuer and holds the money to the merchant's account.
The acquirer is acting as an intermediary between a merchant and international payment systems.
The acquirer maintains a merchant account and takes full responsibility and risks associated with the transactions on behalf of the merchant.
Moreover, the acquirer makes the whole process a bit easier for online merchants, as it charges merchants once – for its own acquiring services, as well as on behalf of international card schemes, taking into account all associated costs, such as card interchange fee.
Are there different acquiring models?
It may sound like the acquiring service is a straightforward process, however, there might be several models involving different parties. As there are several steps in the payment model, there might be one or more companies that are helping merchants to receive funds with cards online.
Often, one company is covering the entire process. In other cases, each step is delegated to different companies, and in some cases, one company is covering part of the procedure and the rest is delegated to another company.
This sometimes leads to misconceptions. For example, often payment service providers are mistakenly considered to be bank acquirers.
To bring more clarity, let's have a look at the key entities that may be involved in the payment process, depending on a chosen case.
Acquirer
As previously mentioned, it's a financial institution that is a member of a card organisation(s) that is offering acquiring services for merchants.
Payment processor
A payment processor is a company or financial institution that has direct technical access to payment systems and carries out the technical processing of transactions within the framework of communication with payment systems.
Payment Service Provider
PSP is an entity that has an agreement with the acquirer for providing card services to merchants, as well as provides access to alternative payment methods (such as Alipay, WeChat etc.) for processing other types of operations.
As you can see, there might be different use cases. So who do you actually need to get paid with debit or credit card online? This depends on your business case.
Let's have a look at possible models.
The classical payment scheme
In a classical online payment model, the role of processor and acquirer is not performed by the same company.
The payment processor processes the payment and sends the transaction details to the merchant's acquirer.
This graph illustrates the model: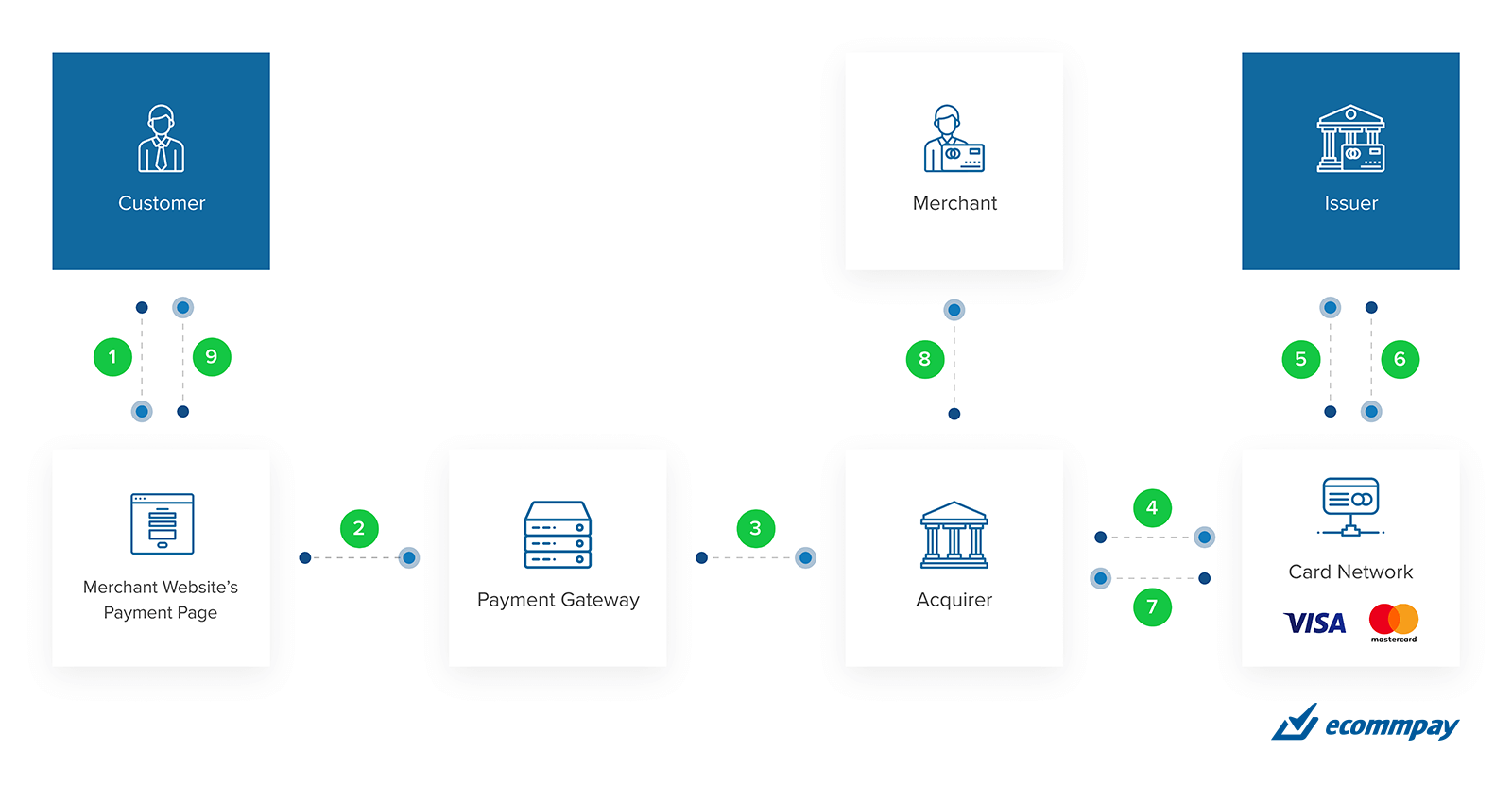 Let's break it down:
The customer chooses a product or a service on a merchant's website and proceeds to the checkout page.
On the checkout page, a customer enters the transaction details, such as credit or debit card data (card's number, cardholder's name, card's expiration date, CVV number). This data is then securely passed to the payment gateway.
Payment gateway encrypts the data, performs anti-fraud security checks, and sends the payment details to the merchant's acquiring service provider.
Acquirer, in turn, is securely passing the payment data to the corresponding card organization.
After performing security checks at the card organization level, the data is then passed further to the customer's card's issuer.
The issuer (or issuing bank) is performing yet another security check and approves or declines the transaction.
At this point, the approval or decline status is being passed all the way back, first to the card organisation, then to the merchant's acquirer, and then to the payment gateway.
In case the transaction is approved, the acquirer collects the money from the customers' card issuer and transfers funds to a dedicated merchant's account.
The customer receives a 'success' or 'payment confirmation' message.
When payments are processed by a processor – there's an additional step compared to direct acquiring. However, there are cases when this makes sense for a merchant.
Direct payment acquirer
In most cases, however, to ensure the ultimate convenience and efficiency, several steps are provided by the same company.
For instance, payment gateway, processing and acquiring will be performed by the same payment provider, and thus offered to a merchant as one service.
Some companies, like ECOMMPAY, are Visa and Mastercard Principal Members. This enables them to accept payment cards for online payments. Since there are fewer steps involved, direct acquiring means online transfers are more secure and convenient.
This graph is illustrating the model where payment gateway, payment processing and acquiring is performed by the same payment provider: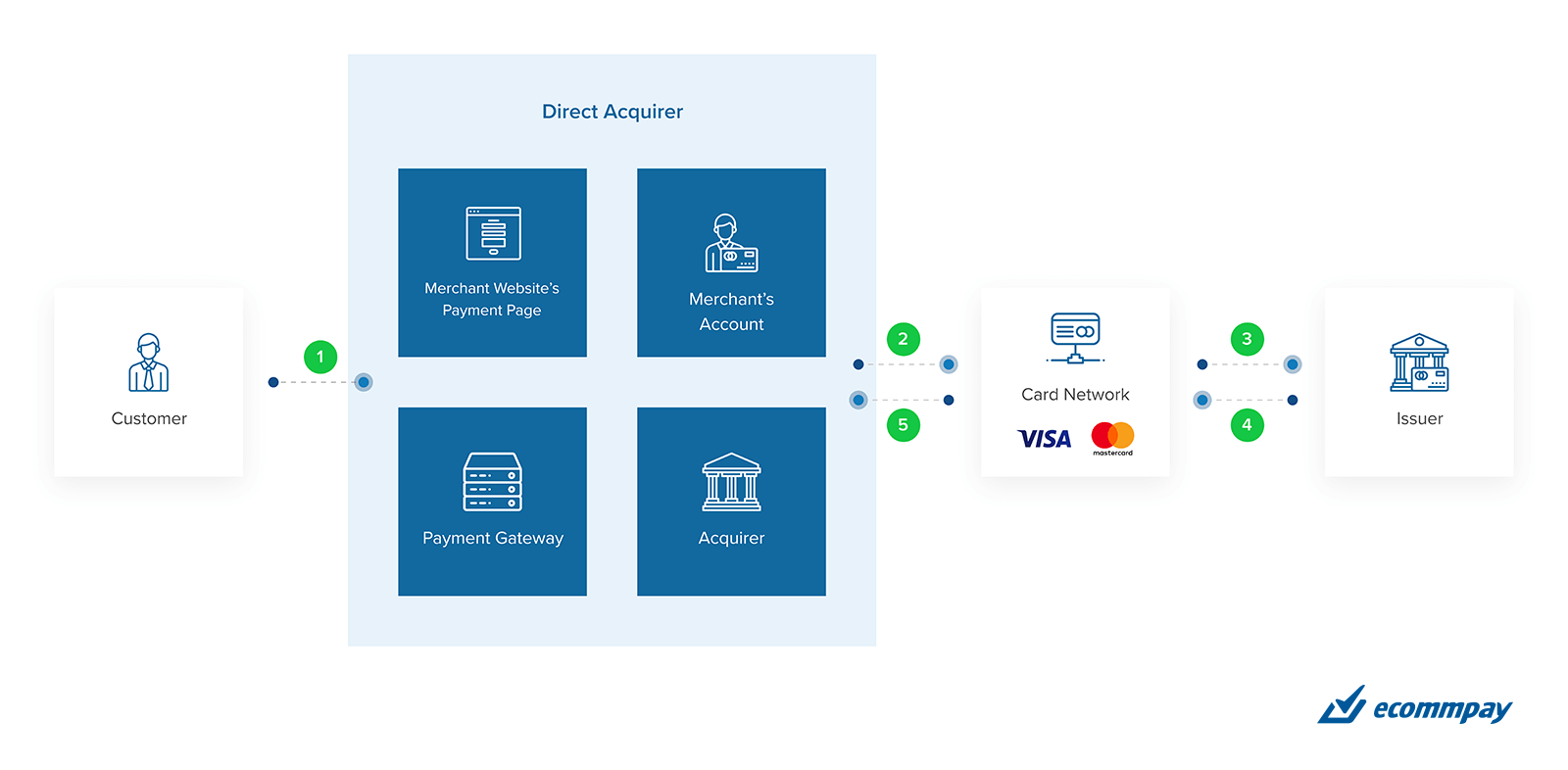 As you can see, a company that is processing transactions is also providing a merchant acquiring services.
The benefits of direct acquiring:
Reduced costs by reducing the number of intermediaries;
Increased client connection speed;
Quick access to the latest changes in the rules of international card organisations;


Working with PSP
In this case, a merchant is choosing a company, which is a third party agent who is in a contractual relationship with the acquirer.
This way, a merchant is choosing one company to accept payments with debit and credit cards, as well as alternative payment methods.
Beyond simply connecting payment systems and holding the appropriate license, payment system providers offer their own proprietary software product. This software is integrated into the client's site to process, archive, and analyse the merchant's transactions.
ECOMMPAY, for instance, is a payment service provider and direct acquirer, licensed and regulated by the Financial Conduct Authority. This means that ECOMMPAY can offer card acquiring, processing payments and accepting alternative payment methods as one solution.
The benefits of such a model:
Reduced costs by reducing the number of intermediaries;
Increased client connection speed;
Quick access to the latest changes in the rules of international card organizations;
Access to alternative payment methods
How to choose the right acquiring service provider?
Now with the acquiring process explained, it's time to find out what to consider when choosing a merchant acquiring provider.
Here is the list of key aspects to consider:
Data Security and Control
When it comes to online payments security there's no space for doubts. Check what security measures are in place.
For instance, ECOMMPAY is providing the following security measures:
EMV 3DS protocol
Card authorisation by code or random sum verification
Address Verification Service (AVS)
Zero-sum account verification for recurring or Credential-on-File payments
Account Billing Updater (ABU) and Visa Account Updater (VAU)
PCI compliant card data capture tokenization


Risk management
Check if a merchant acquirer is offering a comprehensive suite of products and services to manage risks.
For instance, ECOMMPAY's risk management system incorporates a flexible system of rules and settings to automatically analyse transactions in real-time, quickly identifying and blocking fraudulent activity.
Support
One of the key aspects of choosing the right acquirer for your business is the ability of the service provider to take a personal approach to each client. And when we say personal we mean the ability to step into the merchant's shoes and offer the most efficient solution based on a merchant's needs.
When assessing the provided support, pay attention not only to the overall availability but also to the company's readiness to provide a truly tailored solution.
Ask your potential merchant acquirer candidate if they conduct a thorough analysis of client operations, including an overview of end-user behavioural patterns, to configure the payment process for maximum convenience, and, ultimately, conversion. Often this requires configuration of the payment process according to the merchants' needs.
ECOMMPAY is providing a personal account manager, a dedicated risk analyst, and round-the-clock technical support for each merchant. Every new client is assigned a personal key account manager, who conducts ongoing analyses of the business to propose optimal solutions and develop growth strategies. Key account managers are working in tandem with risk analysts and tech support to provide a comprehensive client management service.
Integration speed / convenience
Choose acquirers that offer an integration method based on your capabilities. There are two popular methods of connecting online payment to the site:
Integration via API
In this case, the transactions are processed through direct server-to-server communication. In this case, end-users data is first collected and placed on the merchant's end, and then transmitted to the payment service provider's server.
The advantage of integration via the API is universal customisation, unlimited possibilities for customising the payment page and faster implementation speed for advanced users
Integration through the payment page
Just like in the case of integration via API, the payment page is also embedded into the merchant's website, but it is stored on the server of the payment provider. All data is also collected and processed on the provider's server.
Such integration has a simpler implementation for experienced users and many options for customisation.
In either case, integration requires certain knowledge and time. This is why it is important to choose a payment partner that will guide you through the process and will help with reducing excess integration.
Customisation
Seek a provider that is capable of offering a customised solution. Working with a payment provider that is offering both direct acquiring and a variety of additional payment methods will help you save resources, both financial and human, as you will be able to set up and customise the complete payments process based on your needs.
Besides, a team of dedicated professionals available 24/7 will always be more effective than a manager on the merchants' side.
Coverage
Consider where your customers are coming from. If you are willing to sell worldwide, make sure an acquirer is offering you global coverage.
This makes total sense for online merchants, as eCommerce allows selling products and services to any place in the world.
Think strategically. Even if your business is operating locally now, if at some point you are considering accepting card payments worldwide – make sure your acquirer is ready to offer you coverage in the desired region.
Feature availability
Another aspect to take into consideration is the variety of provided features. Check if the acquirer is offering expanded functionality such as:
Payment cascading
Payments with delayed confirmation
Credit transactions
User notifications with detailed explanation in case of failed payments
Conclusion
The main question remains – how do you choose a merchant acquiring provider for my exact business?
The answer depends on your business strategy. One of the main factors here is the geography of your business.
If you sell products or services in one country – you can use acquiring services of one local acquiring bank and it might be enough.
If you work globally it is better to cooperate with the payment service provider and direct card acquirer.
Choose the fintech company that offers the local acquiring services in each region that you work in. Visa and Mastercard as main payment methods are sometimes just not enough. Asia has 'Union Pay', in Russia the payment card 'Mir'. Each region has its own popular payment method and your provider must offer exactly the methods that will work for your business.
The truth is, there is no single acquiring provider that works for all. There are so many variables, so the best payment service provider is the one that provides a tailor-made service. Tailored acquiring solutions ensure business stability, efficiency and could reduce business costs in the long run.