An analysis of Russian e-Commerce consumers has demonstrated that over 50% of customers are unwilling to carry out transactions online. A lack of trust in banking institutions, unfavourable past experiences, and a limited selection of payment methods offered by the merchant are listed as reasons for which Russian prefer physical transactions as opposed to digital ones. This trend demonstrates the need to develop and to connect a variety of payment systems within a unified gateway, taking into consideration the preferences of consumers by geographical location. ECommPay has compiled an overview of the most popular and relevant payment systems.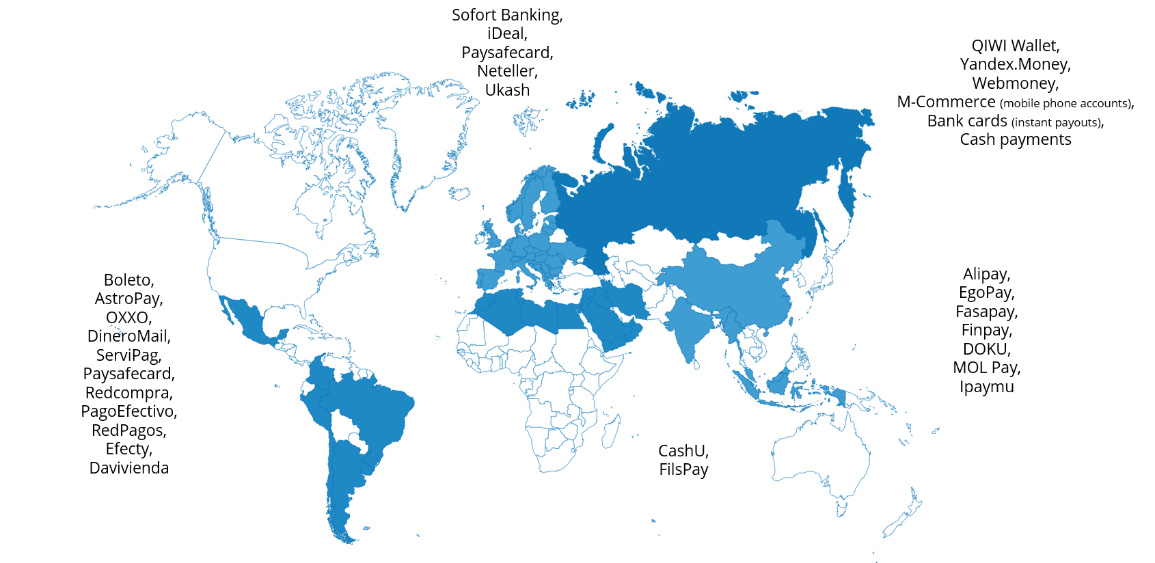 Russian Federation
The online payments industry within the Russian Federation has several key differences separating it from markets in other regions. Though bankcard use is gaining popularity both in physical and digital commerce, the average Russian consumer continues to be wary of banking institutions and bankcard transactions online, preferring alternative means of payment. Therefore, unconventional payment methods have become widespread in the Russian e-Commerce market, offering consumers the option of paying with everything from mobile payments to payments-by-code.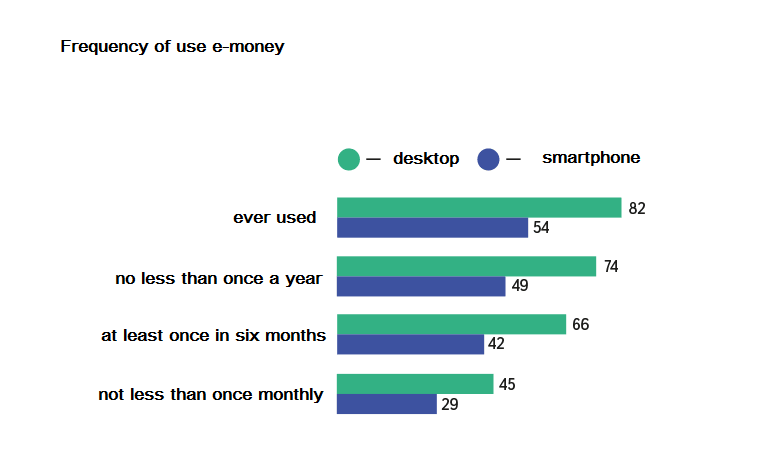 Various sources provide differing accounts of the popularity of e-Wallets as an alternative payment system. Still, e-Wallets are one of the most commonly used substitute methods in the Russian Federation today. A study undertaken by Synovate Comcon 2014 has found that the leading e-Wallet in the Russian e-Commerce market is the Visa QIWI Wallet.
The research body TNS, however, names the biggest, most widespread e-Wallet organization active in the Russian Federation as Yandex.Money.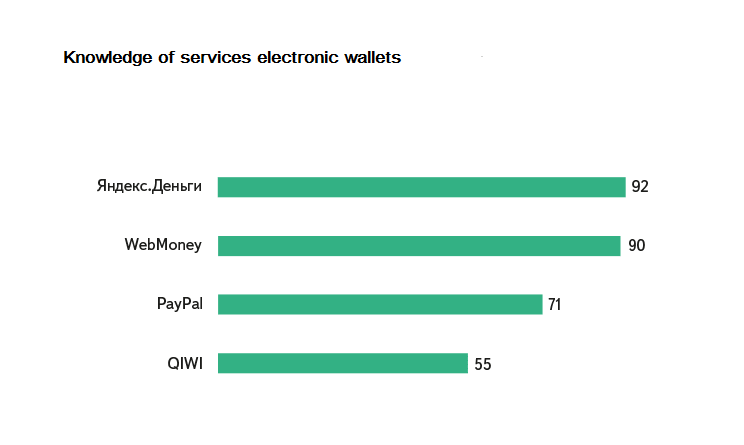 ECommPay's extensive experience within the industry and region suggests the most popular alternative payment systems available in Russian e-Commerce are the following: Visa QIWI Wallet, WebMoney, and Yandex.Money. Each payment system has established a following based on various factors, which depend on the merchant's industry, website advertisements, promotion and sales, commission rates, etc.
Russian e-Commerce market leaders
One of the most popular payment methods within the Russian Federation is, as mentioned previously, QIWI Wallet. QIWI terminals are available for client self-service 24/7 in most large shopping centres, as well as in convenient locations outside. Resembling a bank machine, QIWI self-service terminals are used in 20 countries worldwide and offer users a quick, secure method to pay bills, loans, and more.
QIWI's key advantage is that Russian consumers are able to top-up their QIWI e-Wallet in cash, without commission, on any of the self-service terminals.
Another payment system commonly used in the Russian Federation was introduced by local technology giant Yandex. The eponymous universal payment solution for accepting payments online, including through bankcards, credit cards, e-Wallets, Yandex.Money, and WebMoney, are accepted by more than 65 000 internet retailers and online shops. The payment solution offered by Yandex is used by more than 27% of Russian internet shoppers (source: payspacemagazine).
Sberbank, the national bank of the Russian Federation, owns 75% of shares and holds majority ownership in the payment system Yandex.Money. The Yandex.Money e-Wallet can easily be topped-up by using a bankcard associated with the e-Wallet account or with cash at any of Sberbank's cash machines.
Another leading alternative payment system dividing the alternative payment system market is WebMoney, which has gained popularity amongst Russian freelance workers. WebMoney is an international settlement system, offering clients an online platform through which to control their e-Commerce business. From its conception, WebMoney has gained more than 28 million users around the world (source: WebMoney). This payment system attracts merchants and consumers by guaranteeing fast and secure online transactions.
To succeed in the Russian e-Commerce market, companies should connect the leading alternative payment system described in detail above. In addition to connecting the largest and most widespread payment methods, ECommPay recommends connecting the substitute payment systems targeting smaller, more niche industries: m-Commerce, internet banking, payment terminals, and cash desks.
International payment provider and processing centre ECommPay offers a broad range of payment methods unified within a single gateway. In addition to the vast array of technologies and services, ECommPay's tech support lines are open 24/7.