What is tokenization in payments?
The tokenization technology was conceived as a method to facilitate secure electronic payments using data encryption. The coding system combats fraudulent actions by generating a set of symbols, known as tokens, which do not contain any personal data or sensitive information that could potentially be hijacked or manipulated by criminals.
How does payment tokenization work?
Tokenization encrypts payment card information into a random combination of character undecipherable to a third party, allowing it to be stored by an e-Commerce merchant without any risk of violating secure storage safety standards.
ECOMMPAY offers clients the Token Terminal technology, which is specifically designed for merchants engaged in accepting and facilitating payments to bank card users without holding the necessary certificates for the collection and storage of credit card details.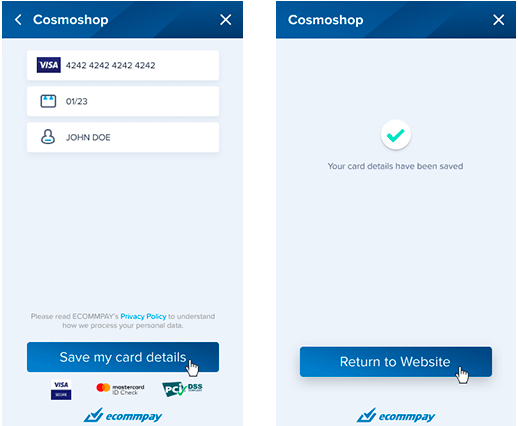 The Token Terminal can be engineered to redirect eCommerce customers to an external page or, alternatively, be embedded directly into the merchant website through iframe, which helps bind the card user's data to his personal account.
The card payment tokenization option ensures that previously entered customer card data will be encrypted and stored remotely within the ECOMMPAY Token Terminal system, allowing regular customers to securely carry out payment transactions without re-entering their payment information.
To activate this service or to learn more about the tokenization technology, please contact our team.